Competitors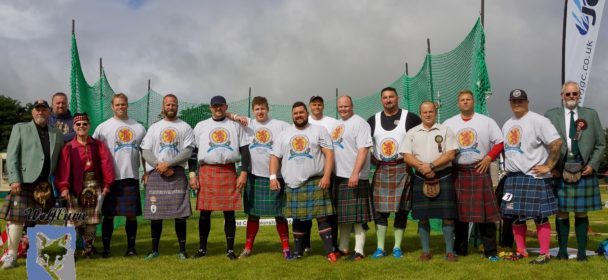 The 2016 line up of heavyweight athletes competing for the World Invitational Heavy Events Championships at Halkirk is:
Dan McKim, USA – sponsored by Caithness Flagstone Ltd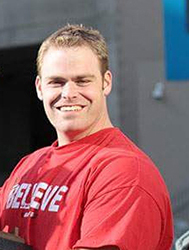 Age: 34 Height:6'5″ Weight:300lbs, 21st 6lbs Chest size: 55″
Town/city: Greenwood, Kansas City.
Job: Rep. for Sorinex Exercise Equipment Kilt tartan: Fraser
16lb shot: 56'7″ 22lb shot: 43'9" 56lb wfd: 47'5″
28lb wfd: 94'9.25″ 16lb Hammer: 157'7.25″ (WR)
22lb Hammer: 132'2.75″ (WR) 56lb wfh: 18′
World Heavy Events Champion in 2011, 2013, 2015
World caber champion in 2010 & 2013
US National Champion in 2010, 2011, 2012, 2013, 2015
US Open Invitational Champion from 2010 to 2015
As a 15-time Track and Field National Qualifier and All-American at Northwest Missouri State University, McKim first watched a wild sport (Highland Games) on ESPN that later became a passion. In 2007 he was the world's top ranked amateur and upon making the jump to the pro ranks, he's continued the success by becoming the best in the world three times over. He is defending his world title at Halkirk. The hammer is his speciality and he holds the world record for both.
Matt Vincent, USA – sponsored by JGC Engineering & Technical Services ltd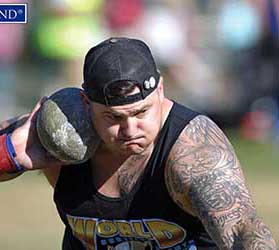 Age:33 Height:6′ weight:280lbs, 20st
Chest size: 51″ Town/city: Baton Rouge, Louisiana.
Job: sales rep in the petro-chemical industry.
16lb shot: 63'1″ 22lb shot: 45'6.5" 56lb wfd: 48'2″
28lb wfd: 94'2″ 16lb Hammer: 142′
22lb Hammer:116'9″ 56lb wfh: 17'10"
2012, 2014 World Heavy Events Champion.
Runner up in 2013 & 2015.
3x World Amateur Highland Games champion
2011, 2014 U.S. Open Champion.
2014 All American Champion
Runner up at the 2014 Scottish Open Championships
Matt is a strength athlete. He has competed in both raw and geared powerlifting, Highlanders (strongman/Highland Games), strongman, weightlifting, track and field and also Highland Games. He has written popular books on training for both strength and technical aspects of Highland Games heavy events and has started working one-on-one with athletes around the world, providing them with custom programming for their sport. Matt also has a line of t-shirts and other apparel sold under the HVIII label.
Matt started as a United States college shot-putter and lettered 4 years with the Louisiana State University track team and was part of the 2002 USA national champion team. He has spent the last 7 years competing around the world in various strength sports. The Highland Games are now his main focus and he has won the world championship twice.
Scott Rider, England – sponsored by Dounreay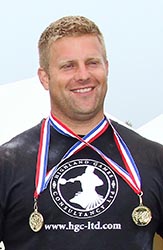 Age: 38 Height:6'2″ weight:260lbs 18st 8lbs
Chest size: 50″ Town/city: Wilmington, near London
Job: Teacher of Physical Education
Kilt tartan: Mc Gregor
16lb shot: 61'5″, 22lb shot: 52'3", 56lb wfd :43'10"
28lb wfd: 91'8″, 16lb Hammer:139'5″,
22lb Hammer:112′ 56lb wfh: 16'1″
World Heavy Events Championships 3rd in 2010 & 2014
SHGA World Champion in 2013, 2014 & 2015
Scottish open champion in 2011, 2012, 2014 & 2015
3x Winner of SHGA World Caber Championship
4x Winner at Braemar Gathering
Prior to becoming a heavyweight athlete, Scott was a very successful athlete in the shot putt, representing England in three Commonwealth Games finals. He was also British champion on five occasions. His other main achievement was taking part in the 2002 Winter Olympics in the 4 man bobsleigh. Scott has competed at Halkirk on two occasions and was champion in 2013 and joint champion in 2015 with Sebastian Wenta. He took part in the recent 90th birthday celebrations for Her Majesty Queen Elizabeth II, by tossing the caber and putting the shot during the Windsor castle equestrian extravaganza, which was watched by many millions live on TV.
Sebastian Wenta, Poland – sponsored by Loganair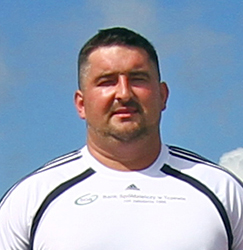 Age: 41 Height: 6'7″ Weight: 330lbs, 23st 8lbs
Chest size: 55" Town/city: Tczew, Poland
Job: Personal Trainer. Kilt tartan: Anderson
16lb shot: 61'10" 22lb shot: 48'6" 56lb wfd: 46'6″
28lb wfd: 95'4″ 16lb Hammer: 139'4″
22lb Hammer: 115'9″ 56lb wfh: 17'6″
World Strongest Man – 2007 – 2nd. 2006 & 2008 – 6th.
Highlander World Champion in 2007, 2008, 2009, 2013
2010 Joint SHGA World Champion with Gregor Edmunds
2012 Scottish Open Championship runner up
5x World Caber Tossing Champion – 2009,2010,2011,2013,2015
Sebastian's athletic career started with volleyball and eventually moved to shot put and discus where he distinguished himself as one of the best in Poland. In 2005 he began competing in strongman competitions and quickly rose through the ranks, finishing second at the 2007 World's Strongest Man competition in California, to fellow countryman Mariusz Pudzianowski. He beat Britain's strongest man Terry Hollands, into 3rd place. From there he started competing in Highlander events and traditional Highland Games.
He has competed at Halkirk over the last 3 years and won the Andrew Ross Memorial Cup as champion in 2014 and 2015 (jointly with Scott Rider). After many years as a superb athlete, he has become one of Poland's most well-known sports personalities. He is the elder brother of Luckasz who is also competing at Halkirk.
Craig Sinclair, Scotland – sponsored by Victor T Fraser & Co.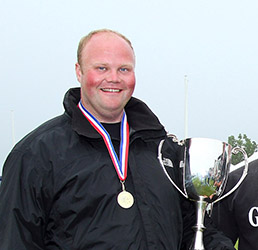 Age: 30 Height:6'4″ Weight:320lbs, 22st 12lbs Chest size: 56″
Town/city: Banchory, Aberdeen Job: Carpenter
Kilt tartan: Modern Hunting Sinclair
16lb shot: 53'1″ 22lb shot: 42" 56lb wfd: 44'7″
28lb wfd: 86'8 " 16lb Hammer: 142'6″
22lb Hammer:122′ 56lb wfh: 16′
2013 Scottish open champion
British and Scottish champion in the hammers and caber events
Scottish champion for 28lb weight for distance
Glenfiddich junior and open league champion.
Craig is a carpenter to trade and currently fits access equipment and adapts homes of elderly and disabled people, to meet their specific needs. He has been competing as a heavyweight athlete for 15 years and the hammers events are his favourite. Craig is no stranger to Halkirk with 3 appearances and he won the Andrew Ross Memorial Cup as heavyweight champion in 2012.
Luckasz Wenta, Poland – sponsored by Norbloc Construction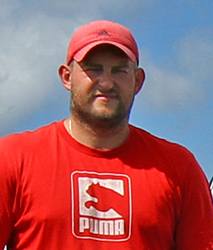 Age: 37 Height: 6'6″ Weight: 320lbs, 22st 12lbs
chest size: 52″ Town/city: Tczew, Poland
Job: Personal trainer
16lb shot: 63′, 22lb shot: 47', 56lb wfd: 39'8″
28lb wfd: 85′ 2" 16lb Hammer: 135'6″
22lb Hammer: 113'5″ 56lb wfh: 17'2"
2011 World caber champion
4th in 2015 SHGA World Championships
2nd in 2011 Scottish open championships
2nd in 2012 World Team Championships
3rd in 2013 World Team Championships
3rd in 2013 World Highlander Championships
3rd in 2015 Glenfiddich League Championships
Luckasz is originally from Tczew, Poland and now lives in East Kilbride, Glasgow. He is the younger brother of Sebastian, who is also competing at the championships. Luckasz works as a personal trainer and has been a professional heavyweight athlete for eight years. He started competing in the shot put and discus at a young age and represented Poland in the IAAF world junior championships in 1998. He has putted well over 60'. Luckasz has competed at Halkirk three times, winning numerous events.
Pieter Bouma, Holland – sponsored by Katoni Engineering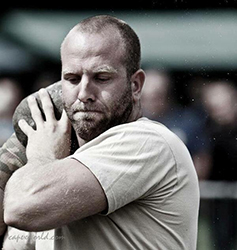 Age: 33 Height: 6'5″ Weight: 256lbs, 18st 4lbs
Chest size:49" Town/city: Winsum, Friesland Job: Dairy Farmer
16lb sho: 48'3″ 22lb shot: 38'3" 56lb wfd: 42'6″
28lb wfd: 84'6″ 16lb Hammer: 129'8″
22lb Hammer: 103'4″ 56lb wfh: 16'7″
Dutch champion in 2009 and 2011to 2015
2014: World amateur champion in Norway
2013: 2nd in World amateur championships in Germany
2011: European amateur champion in Hungary
Before Pieter started competing at Highland Games, he played football, competed in ice speed skating at a high level and was a strength athlete. Pieter is a dairy farmer.
Sinclair Patience, Scotland – sponsored by Caithness Flagstone Ltd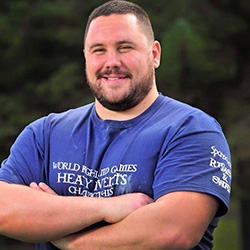 Age: 29 Height: 6'1″ weight: 290lb 20st 10lbs Chest size: 53″
Town/city: Inverness. Kilt tartan: Blackwatch
Job: Scottish Rugby, Coach Development Officer.
16lb shot: 54'2″, 22lb shot: 45'10" 56lb wfd:43'8″
28lb wfd: 84'10" 16lb Hammer: 135'2″
22lb Hammer: 114'4″ 56lb wfh: 15'6″
2009 – World Amateur Champion
2010 – Glenfiddich Junior League Champion
2014 – Joint Scottish Native Champion
Sinclair is from Tain, Ross-Shire and lives in Inverness. Having previously played semi-professional rugby for top Scottish side Edinburgh Academicals, he is now a Scottish Rugby, Coach Development Officer. Sinclair has been a professional heavyweight athlete for five years and loves competing at Halkirk, just like his father George, before him. His father was world champion in 1994 and Sinclair aims to repeat that feat. This is Sinclair's 4th appearance at Halkirk. He has represented Scotland in the past two world championships held in Dunfermline, Scotland (2014) and Pleasanton, USA (2015).
Vladislav Tulacek, Czech Republic – sponsored by Simpson Oils Ltd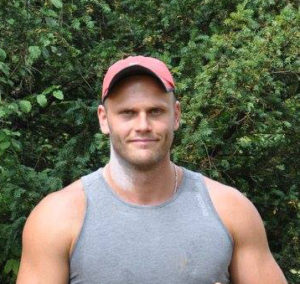 Age: 28 Height: 6'6″ Weight: 19st 10lbs
Chest size: 46" Town/city: Teplice
Job: Prison guard
16lb shot: 58'9″, 22lb shot: 47'5″, 56lb wfd: 34'9″
28lb wfd: 73'6″ 16lb Hammer: 139'1″
22lb Hammer: 105'8″ 56lb wfh: 17'5″
Vladislav first started competing as a professional in 2016 and has been breaking records in the shot putt all over the place. By the time he was 18 he was one of the top throwers in the world for his age – in both shot putt and discus. When he was 20 he finished 4th in the European shot putt championships. Vladislav is still learning the techniques for the Highland Games events, but is a quick learner.
Lorne Colthart, Scotland – sponsored by Wolfburn single malt scotch whisky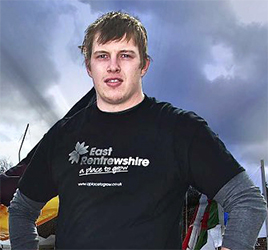 Age: 25 Height: 6'4" Weight: 273lbs 19st 7lbs
Chest size: 50″ Town/city: Blair Atholl, Perthshire
Job: mechanical fitter. Kilt tartan: Stewart of Appin
16lb shot: 55′, 22lb shot: 45′ 56lb wfd 42′ 28lb wfd: 83′ 16lb Hammer: 142′ 22lb Hammer: 115′ 56lb wfh: 15′ 6"
2013 – 3rd in SHGA world championships
2013, 2015 – Runner up at Scottish Open Championships
2015 Scottish native champion
2015 SHGA league champion & heavyweight athlete of the year
2015 Glenfiddich league champion
Lorne is one of the world's best up-and-coming young heavyweight athletes and will be going all out to be on the winners podium at Halkirk. The present world record for haggis hurling (217 feet) belongs to Lorne and it is featured in the Guinness book of world records. Action photo of Lorne by Richard Findlay, fotofling Scotland. www.fotoflingscotland.co.uk