The Halkirk Highland Games, a traditional and spectacular Scottish sporting event established in 1886, is held in Caithness in the far North of Scotland, near to Thurso, the North Coast 500 route and the famous end of the road landmark of John O'Groats. It is always held on the last Saturday in July and attracts crowds of up to 3,000.
With the 2020 and 2021 Games being cancelled due to the Covid19 pandemic, the 2022 Games will be held on Saturday 30th July 2022.
The Games is the premiere sporting event in the North of Scotland. The prize money of over £16,000 is one the best in Scotland and attracts the country's best amateur and professional competitors. There is additional money of £21,000 on offer for breaking ground and national records, e.g. £1,000 on offer for breaking a world record in the heavy events and £300 for a new ground record in the track and field events.
There are nearly 100 events packed into an afternoon and it is the Scottish version of a mini Olympic Games. There are normally dozens of competitors from all over the country and often from abroad. The "Heavies" are the kilted strongmen who toss massive wooden cabers, throw scots hammers and weights and putt the shot. A sight not to be missed. There are pipers, Highland dancers, track and field athletes, cyclists, clay pigeon shooters and children, all competing for top prizes. Spectators are kept informed of all the action by both our roving commentator and announcer. Surrounding the arena are entertaining side-stalls, charity stalls, a thrilling fun fair, a music tent, plus food and drink stalls/marquees.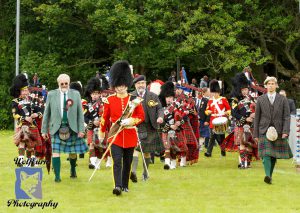 The pipe band will lead the Grand March from Bridge Street to the Games field at 12 noon, prior to the official opening of the Games at 12.15pm by the Games Chieftain, the Rt Hon Viscount Thurso. They will play at regular intervals throughout the day and also perform in a street parade in the evening from 7.30pm to 9pm. The day is rounded off by a grand marquee dance at 10pm to a live band.
A warm friendly welcome awaits you at the Halkirk Games, which is always a great family day out.
The Halkirk Highland Games is a member of the Scottish Highland Games Association.