2016 World Invitational Heavy Events Championships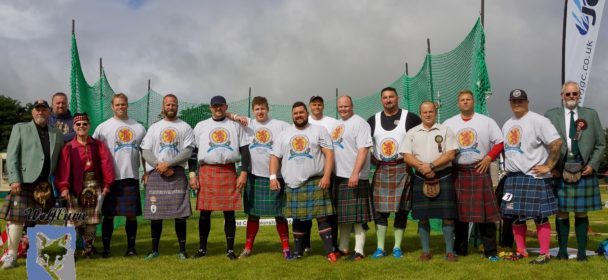 2016 World Highland Games Invitational Heavy Events Championships
Saturday 30 July 2016
Results
1st Scott Rider, England – 68 points
2nd Dan McKim, USA – 63 points
3rd Matt Vincent, USA – 54 points
4th Vladislav Tulacek, Czech Republic  – 50 points
5th Luckasz Wenta, Poland – 42 points
6th Sebastian Wenta, Poland – 41 points
7th Sinclair Patience, Scotland – 38 points
8th Craig Sinclair, Scotland – 36 points
9th Lorne Colthart, Scotland – 30 points
10th Pieter Bouma, Holland – 22 points
Introduction
The Halkirk Highland Games Association is greatly honoured to be selected to host the 2016 World Highland Games Heavy Events Championships. The year is exactly 130 years since the first Halkirk Games were held in a field next to the now demolished Gerston Distillery, only 600 yards from the current venue at Recreation Park.
Whilst the Scottish Highland Games Association World Championships are open to all, these Championships are invitational, with the world's best 10 heavyweight athletes being invited to compete for the prestigious title. The Championships are officially registered and sanctioned by David Webster O.B.E. (Honorary Life President of the Commonwealth Games Council of Scotland). He has an Advisory Council to help with the organisation of such a prestigious event. Steve Conway of the Council says that,
"We chose Halkirk because of its excellent reputation as one of the best Highland Games in Scotland and also because of its long history of supporting Highland sports and in particular the heavy events."
The Championships have been held all over the world since 1980, in the USA, Canada, Australia, New Zealand, Nigeria, Finland & Scotland. Halkirk's own "Heavy" Alistair Gunn won the title in 1995 in Kilmarnock. Most of the other world champions have competed at Halkirk over the years. The champions are;
Geoff Capes, England (6 time winner), Jim McGoldrick, USA (x5), Ryan Vierra, USA (x5), Matt Sandford, Australia (x5), Grant Anderson, Scotland (x2), Dan McKim, USA (x3), Matt Vincent, USA (x2), Bill Anderson, Scotland, Jo Quigley, Australia, George Patience, Scotland, Bruce Aitken, Scotland, Gregor Edmunds, Scotland, Sean Betz, USA, Aaron Neighbour, Australia & Larry Brock, USA.
Halkirk is looking forward to seeing an enthralling battle of the world's best "Heavies" with ground records and possibly one or two world records, likely to be broken. The Games will be held on Saturday 30th July 2016, starting at 11am.
The Games Committee is thrilled that Dr Randall J. Strossen, President of IronMind Enterprises Inc, California, USA, and Elizabeth M Hammond, Vice President, will be at the World Championships to write a report and take stunning action photos for the company's Milo: Strength magazine.
Milo is the world's leading publication for strength sports: Olympic-style weightlifting, strongman, Highland Games, throwing, and a lot more. You'll find training, people, contest reports of record, history, and special features. IronMind supplies Tools of the Trade for Serious Strength Athletes™, with cutting-edge designs and made in USA quality. Their website is: www.ironmind.com
The Games Association is grateful to the Halkirk District Benefit Fund for a grant to help cover the extra publicity costs for the World Championships.
Also, to the following businesses for sponsoring a heavyweight athlete:
 Sebastian Wenta, Poland – Loganair   – www.loganair.co.uk
Luckasz Wenta, Poland – Norbloc Construction –  www.norbloc-construction.co.uk
Scott Rider, England – Dounreay   – www.dounreay.com
Lorna Colthart, Scotland – Wolfburn Whisky –  www.wolfburn.com
Craig Sinclair, Scotland – Victor T Fraser & Co  – www.vtfca.co.uk
Sinclair Patience, Scotland – Caithness Flagstone Ltd  – www.caithnessstone.co.uk
Dan McKim, USA – Caithness Flagstone Ltd  – www.caithnessstone.co.uk
Matt Vincent, USA – JGC Engineering & Technical Services Ltd – www.jgc.co.uk
Vladislav Tulacek, Czech Republic – Simpson Oils Ltd –  www.simpsonoils.co.uk
Pieter Bouma, Holland – Katoni Engineering  –  www.katoni.com